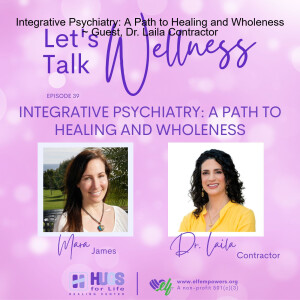 Thursday Nov 10, 2022
Integrative Psychiatry: A Path to Healing and Wholeness ~ Guest, Dr. Laila Contractor
Integrative Psychiatry: A Path to Healing and Wholeness ~ Guest, Dr. Laila Contractor
Let's Talk Wellness - with Host, Mara James
"Psychiatry" might seem like a big word that is mostly associated with conversations to figure out someone's mind, but it is a good bit more than that.  This week, Mara welcomes Dr. Laila Contractor to the podcast for a conversation about her own healing journey to physical and mental wellness, and how it led her to the field of Integrative Psychiatry.
Some of Dr. Laila Contractor's earliest memories are with her grandfather, in his medical office talking to patients in India.  Very early in her life, he made an impression on her that truly listening to his patients did as much for them as the medicine he prescribed.
Dr. Laila's experiences over the years led her to believe that a healthy mind was the most important aspect of a healthy life. She studied at several top medical schools and clinics in the nation, and worked with some of the biggest researchers in the field of psychiatry. She also worked with Kaiser Permanente for thirteen years where she helped develop their Teen Intensive Outpatient Program for those adolescents at-risk for hospitalization and suffering from significant depression amongst other issues.
The onset of a debilitating condition in 2019 took Dr. Laila into the field of integrative medicine through receiving treatment from Kelly McCann M.D./MPH at The Spring Center.  And it was with her brilliance, kindness, and amazing comprehensive, Integrative care that Dr. Laila started to find her way back to health.
Dr. Laila's journey inspired her to complete an Integrative Psychiatry Institute Fellowship through the University of Colorado School of Medicine so she could offer her patients effective, research-based alternatives to traditional treatments.  Dr. Laila has built a practice that centers around partnership with children and families, to provide a holistic integrative evidence-based model for wellness with compassion and care for each unique individual.
Find more with Dr. Laila at https://lailacontractormd.com/
Or email her at drlaila@lailacontractormd.com
* * *
"Let's Talk Wellness" was inspired by the desire to share the HUGS center with the world! The mission of the HUGS center is to bridge the gap between medical professionals and approved holistic healers. ELF is excited to share the many amazing healers and practitioners that are part of the HUGS center as an invitation to change the ideas and conversations around mental health.
To learn more about ELF and the HUGS for Life Healing Center: https://www.elfempowers.org/​​ 
**Note - The views and opinions presented in this podcast are for general informational purposes only and do not constitute, and should not be construed as, medical advice. No guarantee is given regarding the accuracy of any statements or opinions made on this podcast, and no host, guest or other contributor to this podcast shall have any liability for the use of any information presented in this podcast. All copyrights with respect to this podcast are owned by The Extraordinary Lives Foundation and no portion of this podcast may be copied or used by any person without the express written permission of The Extraordinary Lives Foundation.
So Grateful for the music for this podcast, from Asepirawan20 via Pixabay - https://pixabay.com/users/asepirawan2...​ 
And from Kevin MacLeod via FreePD.com - https://freepd.com/
Comments
(0)
To leave or reply to comments, please download free Podbean or